Thank you for supporting RTWC and our work!  Your donations help keep homeowners safe, warm, and dry.
Any and all donations are welcome, and, here is how your donations could support us:

$3,000 Safe Home Sponsors: A gift of $3,000 will sponsor the repairs and modifications necessary to help bring a whole home into a safe and livable condition. This sponsorship level helps us address not just the immediate needs but many of those needs that have develop over the decades. For instance, the leaky roof has caused extensive dry rot, and while we are working on it, we'd like to install egress windows, fix the exit door, put new batteries in the smoke detector, and make a number of other safety improvements. Support safe home repairs.

$1,500 Dry Home Sponsor: A gift of $1,500 will go a long way to purchasing the materials for a new roof. One of RTWC's core objectives is to keep homes dry.  A leaky roof can cause a number of problems in the home, among them being the growth of black mold. This can lead to a number of health problems for the families living in these homes, particularly if there are children in the family. Support dry home repairs.
$1,000 Accessible Home Sponsor: A gift of $1,000 can help build a new ramp for a recently injured or disabled resident. Ramps are only one of the
accessibility improvements RTWC does. In fiscal year 14/15, nearly 50% of our homeowners had a verifiable disability. We also install grab bars and hand rails, widen doorways to allow for wheelchair access, and fix floors. These improvements remove burdens from caretakers and restore independence to residents' lives. They also keep homeowners from being forced out of their homes for medical reasons. Support accessible home repairs.
$500 Warm Home Sponsor: A gift of $500 will help us repair a non-working furnace. Many times each winter we receive calls from families with babies and young children and from those who are elderly asking for help as they have no heat in their home. For the elderly and very young, this situation could become life-threatening, and for others, it creates a very uncomfortable and physically taxing living environment. Support warm home repairs.
$250 Stay-at-Home Sponsor: A gift of $250 will cover all the costs of painting a mobile home. RTWC receives applications from mobile park residents who have received notices that they will be evicted unless they have their homes painted. We prioritize the painting of these homes. RTWC also power-washes properties, fixes fences, and makes other necessary repairs for homeowners being threatened with eviction. Support stay at home repairs.
$50 Happy Volunteers Donor: Last year, volunteers contributed over $150,000 worth of time on RTWC home repair projects. Gifts of $50 will provide t-shirts, food, water, supplies, first aid kits, and other supplies for our volunteers and help show how much we truly value their contribution. Support happy volunteers.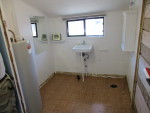 Any amount Good Neighbor Donation: RTWC's mission is to bring volunteers and communities together to improve the homes and lives of homeowners in Washington County. All contributions of money, time, education, and advocacy help us accomplish that mission. Support low income home repairs.

You can also give in other ways.